The Art of Living Beautifully: Tanglebank Gardens & Brambles Bistro
Field & Feast
We are honoured to feature this article written by Brenda Falk, owner of Tanglebank Gardens & Brambles Bistro, Abbotsford, BC  as our first contribution to FIELD & FEAST, a new category in Modern Agriculture Magazine. We will regularly share stories and recipes from local BC producers and agri-entrepreneurs, taking our readers on a delicious culinary adventure. Make sure to SUBSCRIBE so you don't miss out!
We read a lot about passion these days. It's said that passion should be the driving force behind what we do for a living if we want to achieve true work/life balance. We've certainly found that to be true. We've also learned that, in many ways, the process of running a business is similar to that of growing things.
Sowing the Seeds of a Dream
Our businesses began as seeds—idea seeds, created by a passion for growing things. In fact, the Tanglebank seed was sown long before Arnold and I conceptualized this boutique nursery. The seed was sown as a result of the adventurous, entrepreneurial spirit of a man named Harold Bowles, born in England around the turn of the last century. Harold's passion was farming.
While farming English fields, Harold dreamed of reaching greater heights in a new land where opportunity was ripe for the picking. One day, Harold took the bold and courageous step of leaving everyone and everything he knew to seek his fortune in Canada, specifically in Nipiwin, Saskatchewan, where he farmed grain, hogs, cattle and dairy.
Harold must have had a romantic streak. Searching for a name for his farm, he settled on "Tanglebank" in honour of the bank of tangled Saskatoon berry bushes on his land.
In 1946, after farming in Saskatchewan's harsh climate for some time, Harold decided to up sticks and move his farming enterprise to more temperate British Columbia.
Once in BC, he chose to farm on Gladwin Road, Abbotsford, in the heart of our lush Fraser Valley. Harold's farm thrived as did his family. Years later, his daughter Linda Treliving (Arnold's mom) moved the enterprise to our current location in Downes Road where she ran a poultry farm.
Arnold inherited his grandfather's love of the land and the desire to create "something from nothing". Just as Harold had done, so many decades ago, Arnold decided it was time to start something new; time to begin growing a new dream that could eventually be passed down to the next generation.
The Business of Growing
When I look back at how the present day Tanglebank Gardens, Brambles Bistro and the Store at Tanglebank evolved, I see them as seeds that were planted, nurtured and cherished. The seeds grew into seedlings which matured into a remarkable, living enterprise in which not only Arnold and I are involved, but also our children and grandchildren.
Tanglebank is really about so much more than selling plants, or home décor, or creating delicious dishes. Situated a little way out of the central business district, this has always been a "destination". It's a place where people come when they want to feel good, be inspired and get back to nature without having to travel miles away from the city. Our goal has been to create that kind of environment—one where people just enjoy hanging out as much as they enjoy buying plants and other items that enrich their lives.
When our guests arrive, invariably, they'll be greeted by Arnold, me, or our daughter Lauren. Lauren is a professional horticulturalist and, together with Arnold, helps our visitors understand what to grow, how to grow it and what will work best in their home environment.
Once Tanglebank Gardens was well and truly established, Brambles Bistro was our next addition. Brambles evolved from the desire to extend our hospitality. Our daughter Kayla, a professional chef, spearheaded the initiative. Although Kayla is no longer living in BC, her influence and recipes are still inspiring staff and patrons.
The Store at Tanglebank has grown so far beyond its humble beginnings as "The Potting Shed" (which, by the way, still stands at the end of the driveway!). Filled with interesting, unusual and many hard-to-find home and garden items, it's a popular destination for people looking for special gifts or unique items for themselves. What better way to spend a morning or afternoon than browsing the store and enjoying lunch or afternoon tea in Brambles?
Sharing the Art of Living Beautifully
Over the years, we've seen our customers evolve alongside Tanglebank. Many of those original customers still visit us. Although they may have downsized their gardens, they are now enhancing their lifestyles with items from our store and the hospitality of Brambles.
Since we began, new generations have emerged. We're currently broadening our appeal to these younger generations, many of who now have homes of their own. Many would love to garden, but don't know how. We're responding by hosting workshops, seminars and events geared to both novice and experienced gardeners. Topics range from Container Gardening, Hanging Basket and Succulent Wreath Workshops to Vegetable Gardening 101 to Xeriscaping.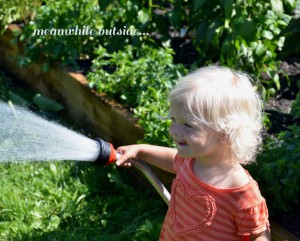 We believe it's never too young to learn to love gardening. To encourage children to develop a love for growing things, we offer fun activities such as building your own pop bottle rain forest terrarium and creating whimsical fairy gardens. You'll find a full list of our events here.
Introducing Millennials and Gen Z to gardening in a fun, interactive way achieves an important goal. We want them to realize that gardening fulfills many basic human needs: physical, emotional and psychological. More importantly, we want to show them that gardening is within their reach.
If you follow us on social media, you'll notice that we use the hashtag #GardeningIsGoodForYou a lot. Gardening is emotionally and psychologically therapeutic. It's often used to help children and adults who are at risk or require counseling.
On a practical level, growing your own food means you'll enjoy a healthier diet, with GMO- and chemical-free fruits and vegetables, while developing self-sufficiency and learning an essential survival skill. We believe that it's important for communities to have the kind of local resources we provide. It helps strengthen both individuals in the community as well as the community itself. Often we don't realize the importance of local resources until there's some widespread crisis. The key is to establish these resources before any crisis.
We see ourselves as a resource for those who love to garden and those who would love to learn how. We are here for our community in good times and bad. We exist only with the support of our community, for which we are extremely grateful. In return, we offer a warm, welcoming environment where locals can both enjoy the finer things of life and connect with the land. We call it "the art of living beautifully".
ENJOY THIS RECIPE from Brambles Bistro: