DAIRY XPO 2015 EXCLUSIVE PREVIEW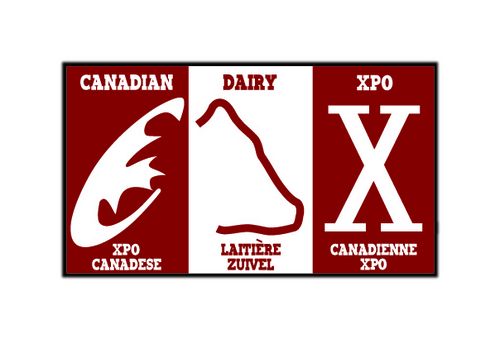 December 12, 2014 (Stratford, Ontario) – If you've heard that the Canadian Dairy XPO (CDX) is going to offer dairy producers the same programming for 2015, you have been seriously misinformed. "There is a tenacious drive to keep the event fresh for attending dairy producers and ultimately that's what gets industry and producers alike excited for CDX each February," states Brian O'Connor, General Manager of EastGen, a proud Founding Partner of CDX.
Marc Comtois, from Comestar Holsteins in Victoriaville, Quebec (milking 300 cows) will make the trek to Stratford this February. He says, "If you're running an innovative operation, you can't afford to not be there, to see and learn how to better your operation." Marc will also participate in a producer panel, a new feature running daily in the Maizex Dairy Classroom. February 4th will feature a group of pedigree savvy producers that have played on the world stage of genetic trade. Joining Marc Comtois on this panel is a star line-up: John Crowley, Glenn Barkey, Jen Vander Meulen and Curtis McNeil.
Attending producers looking to market their on-farm genetic programs should bring their listings and business cards to post on the new Zoetis Genetic Marketplace board, located in the Britespan Cow Coliseum. The second day of the classroom will feature a panel of well known and respected organic dairy producers.
Hot topics in the Maizex Dairy classroom include dairy crossbreeding, Jersey cow efficiency and ag commodity trading. We will also be welcoming back a popular and traditional favourite, Dr. Joep Driessen, Founder of Cow Signals. Joep will be speaking both mornings on Robot and FeedingSignals and then host a virtual on-farm CowSignals workshops in the classroom during the afternoon sessions. The second day's virtual session has been organized exclusively for women visiting the CDX. A separate play area for young children has been reserved during this unique event. "Women have a natural instinct for understanding and observing animal behaviour. With the help of female Purina CowSignals certified reps, we hope to highlight and build on that skill set during the session," states Joep.
The ever popular Britespan Cow Coliseum, presented by John Deere, will welcome almost 40 cows this year. Flooded with new features, there will be a live Component Breed Showcase, Dairy Crossbreed Showcase and a Large Herd Innovation Demo presented by DeLaval Canada. DeLaval Corporate will make CDX a launch site for two intelligent innovations. The Teat Spray Robot (TSR) and the Body Condition Scoring (BCS) system will both make their North American debuts at CDX. "We made a decision to align a corporate presence at CDX as a means to share with the Canadian dairy community groundbreaking precision products," states Jean-Francois Lambert, Branch Manager, DeLaval Canada. The Britespan Cow Coliseum will also boast another elite dairy daughter genetic pen and an additional milking robot. If you're into genetics and innovation, this is the place to see and compare the latest innovations to hit the marketplace.
Don't forget to check-out themed Halls such as: TMR & Forage Superstore and Hay & Forage Hall. Compare 12 brands of TMR mixers, the latest hay equipment, attachments, telehandlers, skid steers and much more.
Enjoy great food at the Junior Farmers Feed located in the Hay & Forage Hall and 4-H made grilled cheese and milkshakes at the Elanco Skyview Café, located in Hall 2.
Stay late on Wednesday evening for CheeseFEST. Starting at 4pm CheeseFEST will feature local cheese buffets, spirits, live entertainment, ice carving sculptures, a ceremony for the ten Founding Partners and 4-H fundraising.
CDX Founder and General Manager, Jordon Underhill states that 350 qualified dairy exhibitors will represent 29 countries and they expect close to 15,000 dairy producers from across the Country and beyond. "We will bring our strongest offer to Canadian dairy producers this February. My team, along with the support of unwavering partners and sponsors, have created a fresh program and strong value proposition for attending producers. Producers today are intelligent and busy; with that in mind, we heavily invested in our programming and our parking," states Underhill. Parking hurdles appear to be resolved through a collaboration of Canadian Dairy XPO management and City of Stratford officials. 60 acres of onsite parking will be available with 4 separate access points into these parking lots. Hotel shuttles, police officials and parking directors have been solidified to ensure attending producers can efficiently get in and out of CDX 2015.
Visit www.dairyxpo.ca for detailed maps of parking options and entry points. The Canadian Dairy XPO, held February the 4th and 5th has truly become the largest dairy stage in Canada. Bring the family; you won't want to miss the action!
Dates for the 2015 Canadian Dairy XPO are Wednesday Feb 4th & Thursday Feb 5th from 9am to 4pm both days; held at the Stratford Rotary Complex, in Stratford Ontario, Canada. For more details contact the Marketing Manager Donna Powell 226-381-0282 Ext #4 or donna@dairyxpo.ca www.dairyxpo.ca