Farm to Table Forever!
What farmers and chefs can do to support local
Cathy Finley
Sixty years ago, if a chef tried to increase patronage and revenue by using the phrase "farm-to-table", it would have been irrelevant because there were no other options. There were no Sysco trucks in sight, just farmers bringing their best meat, eggs and produce to the kitchen door from their farm in the locality.
Nowadays, "farm-to-table" is a badge of honour for restaurants with the added bonus of promoting the farm from where the produce originated. A well-fostered relationship between chef and farmer can be a mutually beneficial relationship. It's good for local food, local farmers, the local economy—and reduces food miles. And with the government's recent announcement that there will be $8 million stable funding for BC's Buy Local Program in 2017 to promote sales of BC agrifoods, we will likely see growth of the farm-to-table trend.
But are some restaurants serving up a side of lies with their ethically-raised, locally-sourced, farm-fresh, sustainably-caught, jargon-heavy dishes? In 2012, a food critic in Tampa launched a two-month investigation, revealing that many restaurants' claims were false. Not "oh, I forgot to take the farm name off my menu when they ceased supplying us" false, but on occasions the farmer had never supplied the restaurant in the first place. So, what does that mean to us here in BC?
A farmer and animal welfare advocate gave a more local example of a disappointing endeavour into pursuing new restaurant customers and consumers. At a Slow Meat Canada event in New Westminster in 2017, three out of five restaurants dropped out of the event because of perceived challenges. The chefs cited product prices as the barrier. The farmers explained that sustainability is at the very heart of the slow meat ethos, so instead of replacing eight ounces of conventional meat with a well-raised alternative, the chefs could consider getting creative with their menu and use less meat of a better quality. However, three chefs decided not to participate at all.
From my own experience as a farmer, there are many local chefs in the Lower Mainland and Fraser Valley with good intentions. However, it's common for farmers to see "local" food claims when the chef only buys a couple of bags of salad from them each year; or they have a farm's name on their menu but haven't purchased their product for two years. The flip side is when restaurants buy pork, for example, in good faith and claim it's "ethically-raised" when in actual fact the pigs are raised in the exact same conditions as their not-so-ethically-raised counterparts. Some of it is about dishonesty, some of it is about subjective values. Sometimes it is just about limitations on the variations and amounts of local and seasonal food that can be sourced—especially in chilly Canadian climes.
It seems like a no-brainer that chefs would want to source locally to ensure the freshness of a product. After all, nutrients in fresh food diminish daily after harvest, so a product that came from 30 miles away is logically superior to a product that has been trucked in from 3000 miles away. But there are barriers to buying local and the main one that keeps coming up is price point. Sourcing from local, sustainable, or organic farms isn't cheap. Chefs report as much as a 50 percent increase in cost when sourcing this way, which often leads to customer criticism regarding the affordability of their restaurants.
Pricing for small farmers is a reflection on what goes into sustainable farming—not only do these farmers pay their employees a far better wage than the average industrial farm, but it's also more labour-intensive to produce food naturally. It takes a lot longer to raise a heritage meat animal on pasture compared to in a feed lot. And then there is the labour cost to the restaurant too. It's quick and easy to rely on freezer-to-fryer food, but buying seasonally from local farms requires a lot more thought, food preparation and often whole animal butchery to get the best value from the products.
Climate also influences produce availability. Around Vancouver, the climate is mild and there is opportunity to grow some produce most of the year. But as we move out from the Lower Mainland, the growing season gets shorter. Even in the mildest climates, you have to find chefs willing to prioritize seasonal produce year around, requiring frequent changes in their menu. It takes a committed chef to take on the challenge of a truly sustainable menu, and a well-educated consumer to embrace such a menu, especially if it includes pickled, fermented and preserved vegetables for out-of-season menus.
As with everything, farm-to-table may look like an opportunity for small farmers, but there's a great need here for farmers to become advocates for local and seasonal produce. We do have numerous platforms to make changes, not least of all, face-to-face with consumers at farmers' markets and through social media. One simple strategy is to distribute a seasonal food calendar either in print or online so consumers know what they can expect from their restaurants and are equipped to ask questions when they are served "seasonal" peppers on their plate…in February…in Prince George!
There is more substantial work for farmers too. Get your chefs out to your farm and enable them to understand farming practices and why yours is not just a better product but is gentler on the environment too. Maybe if you can't supply 50lbs of carrots a week to meet a restaurant's demands, you can form a co-operative with another farm and you can both supply 25lbs of carrots a week, sharing the labour and the cost but making opting for small farms a feasible reality for larger restaurants. You can agree on a joined-up and comprehensive way, between chef and farmer, to drive the rhetoric.
But I think we should also be asking for transparency from our chefs, because exposé articles are not good for the concept of farm-to-table. Their menus could reflect honestly what is local and educate on the reasons why everything on the menu isn't local. In the long run, that kind of honesty would build support and they could eventually convert more of their menu. People are far more understanding of "we're doing our best" than of misleading claims.
Collectively we are loud and can shout at the top of our voices about making the farm-to-table trend more of an honest and real movement as opposed to a greenwashing fad.
Cathy Finley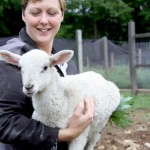 Cathy Finley traded a career in social work for life on the farm. She and her husband Ian moved from a Surrey subdivision to a five-acre plot in Langley, where they restored the land using sustainable and permaculture practices. They began selling their salad greens and eggs to former Surrey neighbours and soon were making regular deliveries to 20 families. They now grow a variety of fruits and vegetables, raise heritage breeds of livestock, attend farmers markets, open their farm to weekend markets during the growing season, offer workshops and learning opportunities, and host events such as Farm Folk/City Folk's Feast of Fields.