Going Mediterranean in Abbotsford- Organic Grown Kiwi's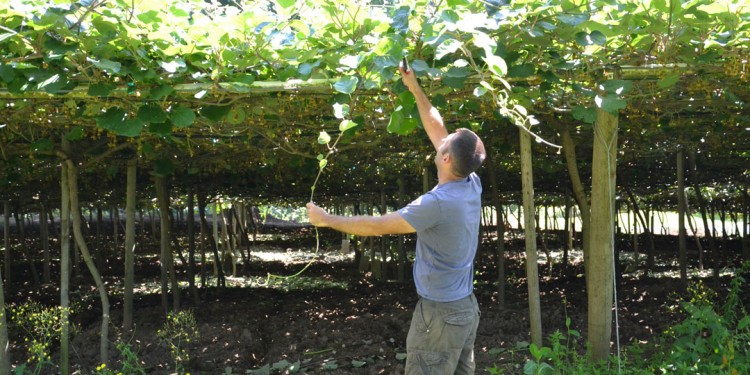 Organic-grown kiwis come from vine know-how
Growing organic kiwis in a wet climate is hard enough, but when buyers doubt it can be done, getting the product to market is almost as challenging as the fruit's cultivation. George Petkov of Petkov Kiwi Production in Abbotsford plunged headlong into this challenge when he started growing kiwis on eight leased acres in 2008.
Petkov's operation was at about 75 per cent of capacity with last year's crop which weighed in at about 48 metric tonnes.
As the kiwi production has climbed, so has Petkov's ability to find buyers.
"The first year [of harvesting] was a little hard to find buyers," he said. "They didn't believe kiwi could be grown here."
Approximately 75 per cent of the farm's harvest in 2013 went to "the Healthy Schools program," he noted, with the remaining quarter being sold wholesale to restaurants and IGA.
One of the restaurants he sells to is Big Feast Bistro, a restaurant focused on fresh, urban flavours in Maple Ridge.
With the expected increase in harvest just around the corner, Petkov is working towards Food Safe certification to allow him to expand his business through other buyers.
Certainly buyers can't be blamed for having doubts about organic kiwis growing locally. After all, kiwi growers on Vancouver Island have had their struggles.
According to Petkov, one of the growers in that region deemed the fruit not commercially viable and ripped up 10 acres of kiwi vines around 2008. The Kiwifruit Growers Association of BC still exists on the southern tip of the island, the only place believed capable of growing the fruit in BC, until Petkov came along.
It hasn't been easy, mind you, and Petkov would be the first to say it isn't the right fruit for most growers. While Petkov has no concerns about pests—due to the fact that kiwis are a non-native plant—the real issue is time and knowledge.
Not everyone has the advanced education Petkov has. He earned a masters in viticulture in his homeland of the Republic of Macedonia (formerly Yugoslavia) after years of schooling in the same subject. He recognizes that someone without a similar background would likely struggle with the same crop.
"They grow like crazy," Petkov said of the male vines. "I have to do lots of canopy management and pruning is very important."
Plus, there was definitely a financial investment in getting the land set up.
"The first few years we were putting money, money, money [into the production]," he said.
But now, the biggest cost is his time.
"When you work for [your] self, I am more flexible," Petkov noted. "Sometimes, I can stay 12 hours [on the land], sometimes I don't come."
Because of the specialized nature of the crop and the work, Petkov knows it will be nearly impossible to find labour to fit his needs. Instead of looking to expand the kiwi plantings to grow the business, he intends to add other Mediterranean fruits to his operation.
"If I expand more, I will have to find someone who knows about [kiwis], so if I expand I will do something else, other Mediterranean fruits, it's [kiwis are] too much work," he said.
The gently sloped fields of Petkov's leased farm are ideal, especially with the clean well water for irrigation.
"The soil is very good and the drainage is very good," he noted.
So what's next for Petkov? Persimmon, figs, pomegranate, olives and more than 25 different kinds of fruit are all being tested on the land. There may yet be a Mediterranean paradise in the Fraser Valley.