Use of Agriculture Land – A reserve for what?
Tom Baumann
Agriculture land is running short globally. Those who produce food on good land with a high quality water supply will be in control of global food supplies in the not-so-distant future. Already some countries—having run out of their own productive land or facing a water crisis or contaminations of the agriculture land—are buying land in other countries to help secure their own food supply. Canada has been targeted as well as many other countries (with Africa likely to emerge as one of the greatest opportunities of all time). About four years ago a radio host asked me what I see as a role for Africa when it comes to agriculture. Even back then I offered the opinion that vast opportunities present themselves in quite a few countries on that continent. But let's get back to our Canadian agriculture futures.
The ever space-hungry cities, road building, commercial interests and incredibly high land values, make for a toxic mix and agriculture land is under the gun. The latest headlines sound the alarm on the use of agriculture land for agricultural enterprises such as wineries and food outlets. The rules are such that growing corn is fine for use as dairy feed; however, if we add a public interest, value-added component to it, we might make more cash from that option than we do harvesting the silage corn. Yes, you guessed correctly, a corn maze! Why should an entrepreneur be discouraged for increasing sales off farm? If that entrepreneur can make a little extra for inviting the public in, and at the same time educate folks on agricultural practices, what is wrong with that?
Similarly, if a farmer sells primary products such as strawberries from the farm, he can make a certain amount of money. Add to that the extra value by making it into wine, jam and jellies, or provide fresh product to corporate events and weddings which can be hosted at the farm, then he should be lauded as a good entrepreneur. However, now you must be careful not to run afoul of the rules! To add insult to injury, if a farm is deemed a religious outfit, they are allowed to build all sorts of things and hold as many weddings as they want, none of which have anything remotely to do with agriculture and food production. Yes, there used to be an exemption in the rule book that says one can have a religious outfit on agriculture land in the ALR. The land remains as ALR land but only a portion of it has to be used for primary agriculture production. Does this mean that if a farm is not permitted to hold wedding festivities then they can simply create their own religious business to get around the rules?
Also, when it comes to pipelines, brand new lines can be run through agriculture land, where newer NEB regulations make it difficult to even work the agriculture land above the pipes, even assuming the soil handling was done properly when sinking the pipes into the ground. Ditto for overland hydro lines. City dwellers, for good reason, don't want either of these going through their back yards, so let's put them on agriculture land instead, which then seemed to be viewed as an "Energy Corridor Land Reserve" rather than an Agriculture Land Reserve. Add to that the demand for roadways, cutting straight through farms (think about it next time you travel the South Fraser Perimeter Road and you drive through the middle of a cranberry farm, now visible on either side of the road).
Next, there is the debate around the need to take land out of the ALR for use in manufacturing, i.e. industrially zoned areas. It is said that the land taken out is carefully selected as the poorest agriculture land that can only be used for cow feed. I have heard that argument many times. Do you drink milk and eat beef? Aha—then land is required to grow feed and house dairy cows! And what about greenhouses, nurseries and poultry barns? They can all be placed on land supposedly not good for growing anything.
If locally grown food is important, then that food will be grown in the Fraser Valley, Okanagan and on Vancouver Island. We want to know where our food comes for, we want to attach as few carbon miles to food as possible and we want to make sure we fall under Canada's more stringent rules for food safety rather than other countries which may have questionable food security laws.
With land at a staggering $100,000 plus per acre, under constant urban pressure, why not make good use of our current agriculture land for agriculture production and value-added products. Let's redraw the line. Make agriculture land for agriculture use. Let's do away with exemptions for religious purposes. Let's make our Provincial rules stick when the federal agencies such as the NEB demand that we open up our land for their use. Above all, let's keep farm families in business for the next few generations. Where do you want your potatoes and blueberries grown—in the Fraser Valley or abroad?
Resources: ALC rules: http://www.bclaws.ca/civix/document/id/complete/statreg/171_2002
Tom Baumann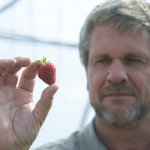 Tom Baumann has spent most of his agriculture career as a horticulturist specializing in berries. His company, Expert Agriculture Team Ltd., provides many services to others including advice, trouble shooting and aids in claim situations. Tom also teaches full-time at UFV Chilliwack as an Associate Professor in the Agriculture Department.