When dairy cows text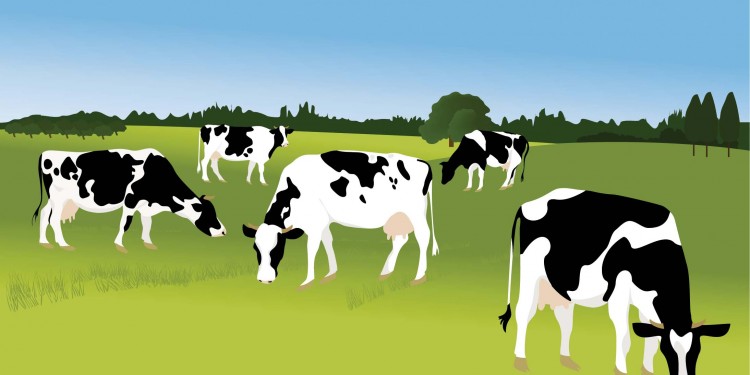 Kaitlin Gisler
Cows are keeping up with on-farm technology by sending a text message (SMS) to the farmer when they're close to calving. This means the farmer's phone contacts have just quadrupled.
Medria Elevage Monitoring Solutions, located in France and launched in 2004, has created the Vel' Phone, which is making its way onto Canadian dairy farms. Four thousand Vel' Phones and Medria's heat detection units have already been sold across Europe. This mobile means of communication via texting can be used on dairy cows and cattle on pasture. A thermometer is inserted into the animal's vaginal canal for a minimum of two hours to a maximum of eight days before she calves.
Once officially activated, the thermometer sends daily updates on the cow's body temperature, texting a maximum of three phones simultaneously. When the cow's temperature drops below an average of 37.8 degrees Celsius for more than two hours, it is a sure sign that birth is imminent. A text message is sent advising that a calving is expected within 48 hours, giving the farmer the opportunity to segregate the cow into a well-bedded pen for her comfort.
Farms that use the Vel' Phone technology have shown improved calving results due to less human interference but with the ability to lend a hand at any moment. The 48-hour notification also gives the farmer the chance to continue on with daily work without constantly having to supervise the calving pen. The sending time for the daily SMS messages can also be tweaked depending on the farmer's schedule.
The Vel' Phone kit includes 5 to 50 thermometers, one applicator, and two nets for cleaning. A radio base to collect the data must be purchased separately. The base can be situated inside or outside, but if stationed within the barn the radio frequency can be sensitive to obstructions. like tin siding or sawdust piles, which can decrease its optimal range of 200 meters. On Medria's website, there is additional information on the best thermometer design for your herd: they differ in size depending on the cattle breed, whether she is a heifer or a cow, and how many times she has calved.
Proper placement of the themometer can be done on the farm by the farmer after a run-through training session. Using a cleaning solution, all the items are soaked while the cow's vulva is cleaned with warm water. The disinfected applicator makes for easy and sanitary insertion. However, while inserting the thermometer, remember that the cow has a nearly fully grown calf onboard and you're working in the vaginal canal—caution is crucial. The thermometer is expelled with the water bag just before calving, and whether she calves in the barn or out in the field the thermometer has to be found and then cleaned in order for it to be reused. For an additional fee. there is a hand-held device to help you locate the whereabouts of the expelled thermometer.
More information on the Vel' Phone can be found on Medria's website (www.medria.fr) with printable brochures and videos. There is also an established Vel' Phone distributor located in Quebec, IPAG Solutions Inc., and with more successes on Canadian farms, Medria will hopefully find a distributor further west.
The direct value of having a Vel' Phone is summed up by Medria Solutions co-founder and President Jean-Pierre Lemonnier: "In farming, an emergency often means it is too late. Being equipped with our equipment and warned at the right time, the farmer can respond quickly and effectively."
Since communication is key to business success, texting with your cows can only be good.