Vodka Takes Roots and Flies High in Langley
Ronda Payne
Although the attribution of the quote is uncertain, it was a wise person indeed who said "there are two gifts we should give our children: one is roots, the other is wings". Regardless of the parentage of the quote, it's a phrase that stuck with Rebekah Crowley when she and boyfriend Rob Rindt established their vodka distillery and tasting room in Langley, BC.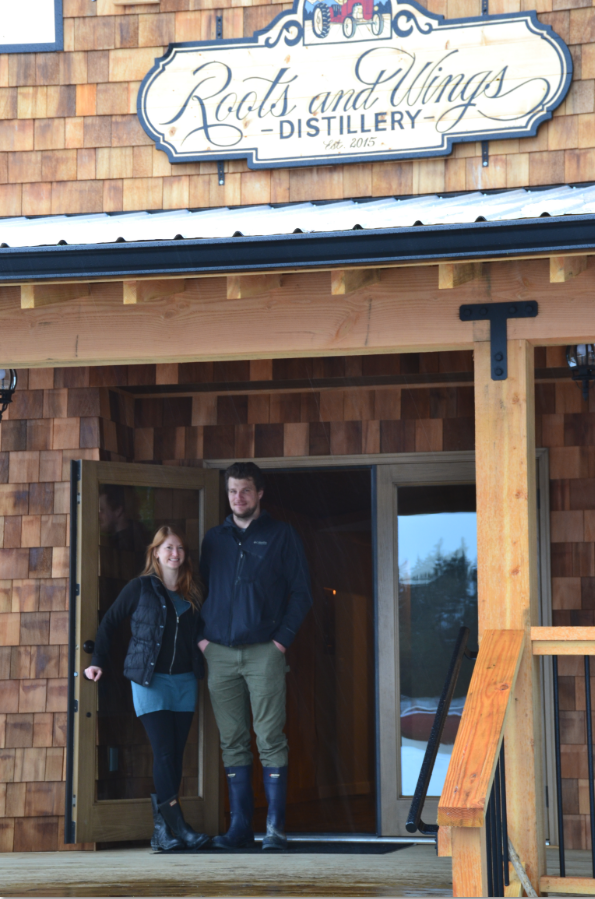 "It's more of a romantic notion that everything has roots and wings," Crowley says of the phrase that inspired them to name their business Roots and Wings Distillery.
The couple started toying with the idea of creating craft vodka then incorporated in July 2015 – like many entrepreneurs – without exact ideas of how things would come together. Yet, things have come together, pretty much perfectly
Roots and Wings Distillery and tasting room opened to visitors with a soft launch in February with plans for a much larger, and livelier grand opening in the summer.
"We'll have it in the summer when it's nicer weather," she says, "when we can have a really good party."
The pair has plans for friends in a band to provide music, and they will have vodka tastings and celebrate what they've accomplished—which is no small feat. Roots and Wings is perhaps the only distillery making vodka from potatoes and corn grown on site and distilled by a female distiller. It's more than a novelty; it's a unique stand that makes this vodka doubly good.
"There's only one distillery that grows their own potatoes and uses them and that's us," Rindt says. "It's exciting because as soon as you work in the field, you plant the potato, nurture the potato… all your efforts go into this one bottle of vodka. It's pretty amazing."
"We're business partners in the distillery. He does the farming and heavy lifting," Crowley says of Rindt, her business and life partner. The pair live on the site where they grow some of the potatoes and corn; and while Rindt takes on the majority of the farm chores, Crowley has her hands full with the distilling and administrative tasks.
Between this 30-acre site and the 100-acres nearby in Glen Valley, there's enough fertile land to keep them both busy. Currently there are six acres of Kennebec potatoes planted and four acres of sweet corn.
"Rob's parents started Western Turf Farms," Crowley explains. "They had been vegetable farmers previously."
So while Rindt understands and values the work he does with his family, he wanted something that was separate from his brothers.
"My family has been farming here since the 50s," he explains. "I wanted to do something independent of my five brothers."
"Rob is a serial entrepreneur," Crowley says with pride. "He's always been thinking of other things to do to work off the farm."
So why vodka? It began with what the pair enjoys.
"We like potato vodka," Crowley says. "I like Tito's vodka which is a corn vodka."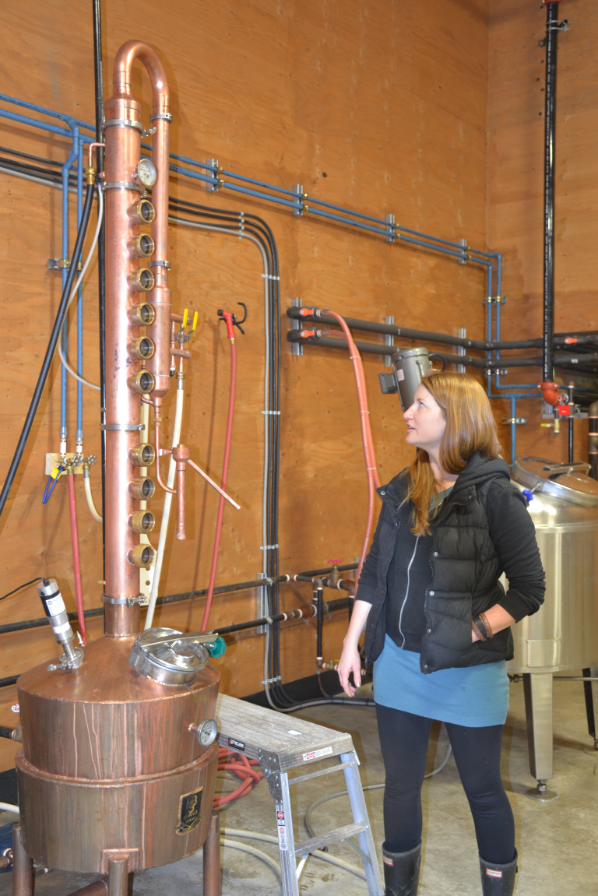 It takes more than liking vodka to make great vodka or there would be distillers everywhere, but Crowley took the challenge on and attended the Urban Distilling course in Kamloops to learn her trade. She came back from the course and told Rindt she thought they could make a go of their idea.
"We wanted to make a drinking vodka," Rindt says. "It's a smoother, more mixable vodka."
The classic Roots and Wings potato and corn vodka is the first product available. A corn whiskey is on the agenda, as is the creation of a white whiskey. This requires rye and wheat and must be aged for three years.
"Because we're a craft distillery we have to source local BC ingredients only," Crowley notes.
It seems like a tall order to find BC-grown grains, but the pair insists it can be done. It takes a lot of volume, however. For example, the vodka requires about 2 kilograms of potatoes for a 750 milliliter bottle.
As with most craft distillation processes the product may change slightly from batch to batch. This is not a case of a homogenized end result like large commercial distillers. Crowley uses a Hillbilly brand still from Kentucky for her distilling.
"I will consistently give you great spirits," she says. "There might be a slightly different flavor profile."
There will be vodka infusions along with straight vodka served in the tasting room which is open on weekends from 11 a.m. to 5 p.m. Summer hours will be expanded along with some special event hours.
When visiting, take a close look at the tasting room. You'll hardly recognize the single-wide trailer it once was. Crowley and Rindt were going add the tasting room onto the distillery, but because the trailer on site (which had been a rental for many years) had septic and other hookups it made sense to convert it to create the wood-paneled bar-feel it has now.
For real, local vodka, with potatoes and corn farmed by a man, yet distilled by a woman, check out Roots and Wings in Langley.